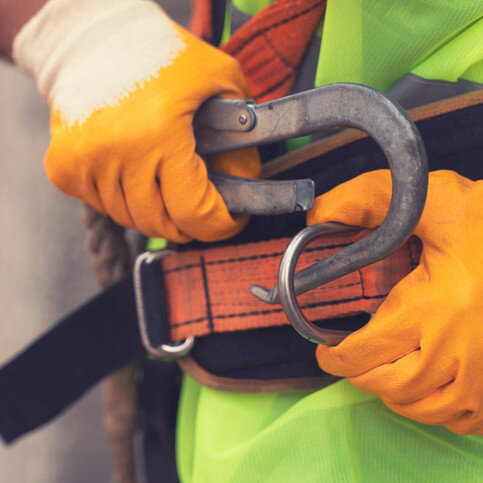 1. Prepare Adequately
Rushing into work is one of the reasons people overlook safety precautions and end up suffering tragic injuries. Generally, you need to ensure the scaffolding structure does not have overhead obstructions and is on even ground without dips or slopes before using it.
Equally important, check whether the scaffolding base is correctly anchored and leveled. Are the guardrails and braces in place? Verify whether the locking system is soundly secure too.
2. Inspection and Maintenance
During work, ensure the scaffolding is free of debris and other obstructions that might trip you up and fall or injure the workers below you. After work, be sure to remove all tools and equipment from the scaffold. The aim is to keep the scaffold as clear as possible and avoid overloading it.
It is also critical to inspect the scaffold for signs of cracks, warping, or wear. If anything looks potentially dangerous, work should be suspended until the scaffold is repaired or replaced.
3. Use Safety Equipment
All construction workers are required to wear personal protective equipment. This is especially critical when working at height. For example, many tragic scaffold injuries are caused by falling debris or objects dropped by workers working above. Because of this, wearing a hard helmet can protect your head from dangerous cuts and lacerations, or fractures.
Also, you should generally have fitting non-skid boots on. These will go a long way in protecting you from dangerous trips, slips, and falls. Additionally, don't forget your safety harness, as it can make the difference between life and death if you trip or slip.
4. Fall Protection
OSHA guidelines are very clear —construction companies should provide fall protection to workers on scaffolding structures. This entails placing guardrails, safety nets, or toe boards to protect workers from dangerous falls.
Also, employers should offer training on how to spot safety hazards and properly use fall protection systems.
5. Monitor the Weather
During extreme weather conditions, working at a height could make you vulnerable to severe injuries. For example, a strong wind could make objects fall on your head or utility poles fall on the scaffold structure.
Also, during winter, the scaffold may be covered by ice. In such scenarios, postponing the job may be the best option to avoid dangerous falls.
Let Us Help
Have you been injured in a New York scaffolding accident? Our experienced construction accident lawyers at Apicella & Schlesinger Law Firm are here to help. We can review your case for free and help you understand how to protect your legal right to compensation.