If you have been injured in a New York motorcycle accident, here are five important steps you should take to protect your right to compensation.
A motorcycle crash can leave even the most experienced motorcyclist confused and shocked. However, quickly taking the proper steps can help you recover the total amount of compensation you are entitled to. Let's consider five important steps you should take to pursue compensation after a New York motorcycle accident.
---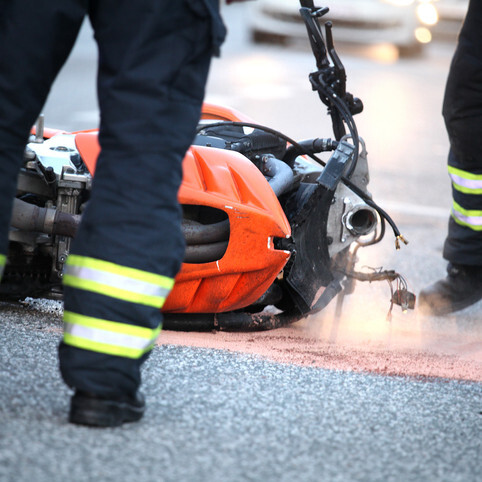 1. Get Medical Care Right Away
Seek medical attention immediately after a motorcycle accident. This will help treat your injuries before they turn into more severe and expensive injuries. Seeing the doctor right away will also prevent the insurance company from claiming your injury or health condition is unrelated to the motorcycle crash.
Remember to follow your doctor's instructions to the letter, as failure to do so can be used to deny or devalue your claim.
2. File Your Claim Before It's Too Late
Next, ensure you file a personal injury claim within the set deadline. If you fail to file on time, your claim may be rejected. What's more, waiting days or weeks before filing your claim provides the insurance company an opportunity to find something that they can use against you.
3. Preserve Your Evidence
Sometimes, motorcycle accident victims may be unaware that they need to collect evidence after the accident, especially if the resulting damage was relatively minor damage. Other times victims may fail to gather evidence, thinking the police report will capture everything. Unfortunately, police officers are humans and may miss some details about the accident that could help your case.
It would be best if you recorded the events while they are still fresh in your mind. Having pictures of your injuries, police reports, witness statements, or medical bills can be a game-changer in your case.
4. Don't Be Quick to Accept the First Offer
After filing your claim, the insurance company will likely come knocking with a tempting offer. They may use every trick in the book to convince you to accept it. Don't fall for this trap. In most cases, the first offer is usually far less than the amount you are entitled to.
Additionally, if you accept an offer, you'll generally waive your rights to pursue the case further in the future. This means that the insurer won't be held responsible for any medical bills you will incur in the future.
5. Hire a Competent Attorney
Your best chance of getting a maximum settlement is to work with an experienced motorcycle accident attorney. An experienced injury attorney can help you collect solid evidence and ensure you do not settle for less than you deserve and are legally entitled to.
FREE Motorcycle Accident Case Evaluation
Have you been injured in a New York motorcycle crash? Contact Apicella & Schlesinger today. Our highly experienced attorneys will understand the actual value of your claim and have the experience necessary to fight for the compensation you deserve.
Free Consultation with a New York Car Accident Lawyer
Contact Apicella & Schlesinger Attorneys at Law to request a free consultation.
(212) 568-4245